Bioclimatic architecture refers to the design of buildings and spaces based on local climate, aimed at providing thermal and visual comfort, making use of solar energy and other environmental sources. It is sustainable design that attempts to connect with nature while also maintaining building comfort based on local climate.
In architectural design, one has to consider the thermal comfort of the user as well as the minimum energy used to cool/heat up the building. Bioclimatic design amalgamates this thought process by taking into consideration, the attainable favorable thermal and visual comfort of users as it establishes bonds with nature.
1. PASSIVE SOLAR HEATING
This method involves the building to be appropriately designed and oriented according to the sun which would help the building to receive minimal heat gain. To achieve this, a study about the sun path in that region, wind direction and climate analysis is required. For example, in tropical climatic zones like Auroville and Pondicherry, would require the longer side of the building to be north-south oriented with large windows to cut off the intense heat from east-west direction.
2. PASSIVE COOLING
As heat protection does not necessarily guarantee zero heat gain, a subordinate system is adopted which operates by dissipating heat accumulated in the building by natural means. Passive cooling incorporates various techniques such as natural ventilation, night flush cooling, direct and indirect radiative cooling and evaporative cooling. For natural ventilation to operate effectively, appropriate placement of openings is to be done based on the direction of wind. Using courtyards in tropical regions are appreciable, as it gives way for hot wind to flush out and cool wind to circulate through the building.
3. NATURAL DAYLIGHTING SYSTEM
Daylighting system functions by placing openings or windows and reflective surfaces at suitable locations of the building based on the sun path which, in Auroville it is often encouraged to be at the north and south facing facades. This provides sufficient diffused natural light and ensures effective internal lighting during the day while avoiding the problem of glare. This system maximizes visual comfort and allows reduced energy consumption as less artificial lighting is used.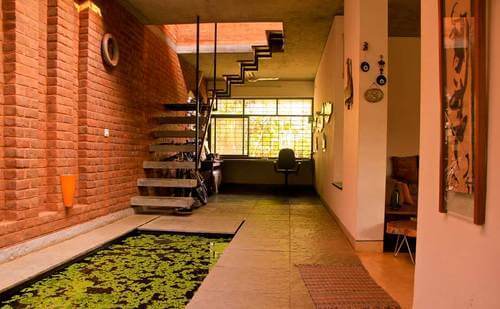 NEED FOR BIOCLIMATIC ARCHITECTURE
We, as a society have come to think of a any space to be a box with an air-conditioner fitted which cools the room as per the convenience of the user inside the building. If only we thought about the energy we could save by adopting passive cooling techniques. With the rise of convenience over quality, we have failed to look out for more options which could provide holistic solutions to the environment.
STEPS TO FOLLOW BIOCLIMATIC ARCHITECTURE
Understanding the local climate of the region
Observing climate shifts through the year, in order to design for thermal comfort throughout the year .
Studying traditional techniques of the construction indigenous to the region. This will give a wider view of understanding thermal comfort to users preceding the invention of air-conditioners.
Working with locally available materials, ideally within 5 km radius of the site. Materials that are native to the zone would have evolved with the climate, which would make it easier for construction. The challenge also involves finding the right technique of construction with the given material. Studying traditional techniques of construction would take us a long way in achieving this.
AUROVILLE ON BIOCLIMATIC ARCHITECTURE
Auroville has been a pioneer in bioclimatic architecture. Auroville lies in a tropical humid climate zone, with rainfall for 3 months. The architecture of Auroville has evolved to provide maximum thermal and visual comfort to its residents. Around Auroville, extensive use of louvres, courtyards, large wall openings are predominantly seen. Earth, which has been researched by the Auroville Earth Institute for more than 3 decades, is widely used as building material. The abundance of red soil available in Auroville makes it the most easily available material in the area. Explore more about Auroville's buildings by joining our Exploring Auroville Architecture Workshops.