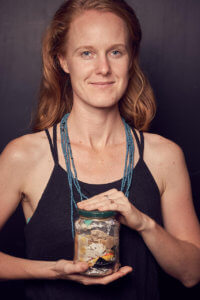 The term "zero waste" can be intimidating. At a time when convenience and online shopping are the norm, the thought of not producing waste and avoiding single-use plastics and paper products is overwhelming. It is easier to ignore the increasing environmental impact caused by waste management problems and the limitations of recycling.
Zero-waste living means aiming to reduce landfill-bound trash to the bare minimum—a worthy goal considering that a plastic bag could take up to 1,000 years to decompose in a landfill. When you look through your trash, you'll probably find discards that could be recycled, reused, or repurposed. As you get excited about zero-waste living, you'll reprioritize your shopping habits and reduce the amount of clutter and excessive packaging or goods. Whether you're an experienced zero-waster or a beginner, there's always something to learn or ways to improve.
Over time, Laure has learned to live a (nearly) zero-waste lifestyle, and she is here to help and guide you!
In this 1 hour webinar, the following topics will be covered:
What is a zero-waste lifestyle and the methodology to apply it – an in-depth look at how to apply each of the 5 principles, giving tips and trick
Sharing of Laure's personal experience: How she started her zero waste journey? How did she gradually reduce her waste to the point to have hardly any waste?
Detailed advice on how one can start a transition towards zero waste
An explanation of items/products used or made in her daily life. She will give recipes, DIY or upcycling ideas
Detail of how to go zero-waste in the kitchen, bathroom, and when doing groceries
Sustainable swaps and easy changes to reduce waste
How to deal with non-recyclables and what to do with these items
The webinar will be followed by a 30 minute Q&A to answer all your questions, clear your doubts, give customized tips and tricks according to your needs. You will be able to receive personalized advice for you to start your zero waste journey.
For who is this webinar? 
For anyone looking to start their own zero-waste journey, anyone looking to reduce their waste, increase the efficiency of their recycling, or simply curious about this topic.