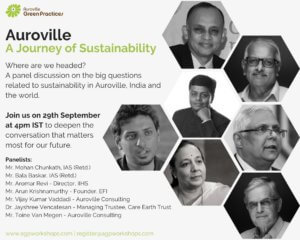 Auroville – A Journey of Sustainability
A web conference on the 29th September from 4-6 pm IST, hosted by Auroville Green Practices.
It is with great honour that Auroville Green Practices, an initiative of Auroville Consulting, has approached esteemed panelists for the occasion of the first of a series of online conferences on the topic of "How can Auroville better contribute to India's sustainability agenda?"
Through a panel discussion showcasing the global as well as Indian scenario of sustainable development, we aim to gain a better understanding of the opportunities that Auroville can explore, and look together at deliverables that Auroville can manifest. 
Having celebrated Auroville's sustainability efforts in the last five decades at the occasion of Auroville's Golden Jubilee in 2018, Auroville Consulting wishes to enhance collaboration with industry, academia, governments and communities to achieve a sustainable and equitable future for all.
To achieve this objective, the Auroville township is creating a living laboratory where many innovative and successful models and pilots exist, which can be duplicated in factories, commercial buildings, educational institutions and campuses.
Auroville Consulting would like to be a knowledge partner to all organizations wishing to reduce their carbon footprint, increase their use of renewable energy, become energy efficient, recycle water and waste and ultimately reduce their costs and the costs to the planet. 
To reach out to people and create awareness on sustainable practices, AVC plans to organize a series of webinars on the need for including training programmes on sustainability in schools, colleges, government organisations and companies.
It is time to ask the big questions, will you join us?
This webinar is the first in the series.