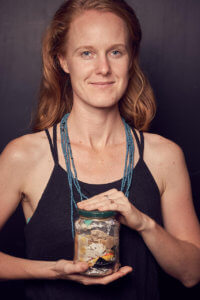 Since 2017, Laure has been a part of the Auroville Unit Palmyra, Centre for Ecological Land-use, Rural Development and Solid Waste Management.
Laure

specializes in solid waste management and has been living a zero waste lifestyle for 4 years. She promotes and helps people towards a more sustainable and conscious living. 
During this webinar, Laure will explain what is a zero waste lifestyle and why she is living this way. After explaining how she got started, she will go through the methodology to reduce one's daily waste.
She will end by explaining how one can get started, giving some tips and tricks.
The webinar ponders these questions:
1 – How to reduce one's daily waste ?
2 – Introduction to a simple way to reduce daily waste
The webinar will end with a question and answer session.