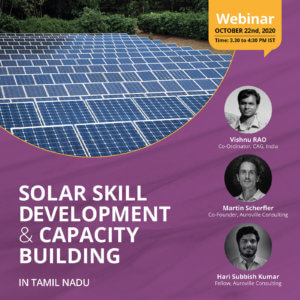 Please join us for the latest webinar on the SET series on Thursday, 22nd October from 3:30 pm – 4.30 pm IST!
Meeting Tamil Nadu's solar energy target of 9,000 MW by 2023 has the potential to create 97,110 full time equivalent (FTE) jobs. There are five government supported solar skill development programs in Tamil Nadu, of which Suryamitra program has the highest training capacity.
A survey conducted identified a number of gaps that will need to be addressed in order to:
(i) ensure better employability of the graduates from these programs,
(ii) supply the solar industry with a skilled workforce and
(iii) meet the Tamil Nadu's solar energy targets.
In this webinar, we will discuss the challenges faced by suryamitra graduates, training institutes and start-up solar entrepreneurs; and provide recommendations at both state and national levels to overcome these challenges to create an enabling environment for solar skill development in Tamil Nadu.
This webinar is based on the report: 'Solar skill development and capacity building in Tamil Nadu – An assessment of government of India programs' recently released in June, 2020 as part of the Sustainable Energy Transformation, Tamil Nadu (SET-TN) series of documents and activities. SET aims to facilitate higher clean energy deployment in the State by working with stakeholders in order to find sustainable and equitable solutions. SET is a collaborative initiative by Auroville Consulting (AVC), Citizen Consumer and Civic Action Group (CAG), the World Resources Institute India (WRI). 
Register for free and download our report on the link below: